Frequently asked questions!
Paying invoices from abroad.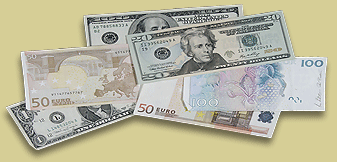 Questions:

"I received the item in good shape. I will send you cash (US$125) instead of the bank draft?"

"Am I correct that I can send US dollars
($132.45) to cover payment and thus avoid NOK 300
bank charge?"

Answer:

Invoices of minor amounts issued to customers living abroad are often a problem because the bank/transfer expenses are proportionally unreasonable to the total. Very often we are asked to receive banknotes instead, but this turns out accordingly unprofitable on our hand.

The exchange rate offered by our customer is commonly 5-20 % higher than our banks rate for crediting our account. The multiple handling of the invoice, calculating currency before and after visiting the bank, asking for the deficit or depreciating it is troublesome.

We are clearing the entire auction in NOK. Norwegian banks are deducting bank charges. Our concern is the amount credited our account in NOK in order to avoid losses.

We therefore would appreciate the invoice to be cleared by ordinary fund-transfer using this bank details:

Make a Money order / wire transfer swift to:
BIC Address: DNBANOKK Account # 16004959144
DNB Bank ASA Stranden 21,
Aker Brygge N-0021 OSLO.
Our IBAN: NO41 1600 4959 144

Click here to get an impression of exhange rates offered by the company FOREX.
The column "Kjøper Sedler" indicates the rates
Forex Bank is giving when exhanging banknotes into
Norwegian Kroner.


Question:
"My international payment order went wrong.
Because it is a small amount would you please be so kind to charge my Mastercard. (of course I will pay the extra costs)"
TN, The Netherlands

Question:
"Dear Sir, I have received Your shipment sent Dec. 16th. Seen the small amount invoiced, I would like to avoid the bank charges in our 2 countries. Is it possible to pay Your invoice with a credit card or will You accept Euro in cash ?"

Answer:
The credit card companies demand a percentage
of the total amount paid. As our revenues are based on a provision of the sale, such fees are unacceptable for us. We are not allowed to take a surplus of the money transfer either.

You are kindly asked to make a fund transfer according to the details mentioned above. This should cause no problems when details are filled in strictly.
Question:
It is hard to accept that a total purchase of NOK 700
is going to cost me 50% more, after all fees and surpluses asked by financial companies are
added, in order to transfer funds!

Answer:
We totally agree! The alternative is that we give a 50% discount on your purchase, to be given to greedy banks. Our advice is to take all the extras into account when bidding on few and low-priced items.


FAQ!
To avoid answering the same questions over and over again, we consider it sensible to include some of the most frequently asked questions
with their answers in a web page like this one.

More FAQs will be added consecutively.


Question:
I would like to renew my auction catalogue subscription.
Can I do so by sending bank notes?

Answer:
Yes. Amounts this small would completely disappear after handling by greedy banks. You are welcome to submit USD, Euro, DKK and SEK in banknotes. You will receive a receipt when your payment arrives.
The subscription fees are to be found here.

Message:
"Dear Sir, I have mailed you 13 lots for the April auction. Please feel free to break up lots or whatever is necessary according to your experience. The evaluation is up to you, but please let me know what the evaluation/starting price is so that if necessary I can put a reserve if the starting price is too low."

Answer:
We look forward to receiving your items. In order to save time in a busy period for us, it should be helpful to get your reserves as soon as possible. In our auctions there are very seldom reserves. The absolute reserve is 80% of the starting price as a general limit for all lots in an auction.

The crucial issue is to present items to the international prospective buyers in the best way, and this is not met when estimating starting prices are set so high that the majority is not encouraged to bid.