About our International
Stamp Auctions in Oslo
It takes several months to prepare for an auction, starting with marketing, evaluations and strategy as to how to present the submitted lots towards our worldwide clientele.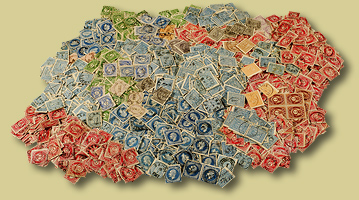 A very special offer in our auction # 69: A large quantity of Norwegian skilling issues. Lot # 3306, starting at NOK 10,000. Realised NOK 58,000.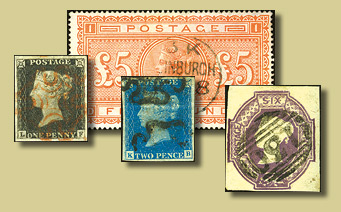 Four of the stamps from an extensive collection Great Britain in our auction 71. Starting at NOK 100,000. Realised NOK 175,000.
Over the years our experience is, that in most cases, retaining the original lot as collected is the most profitable solution for all parties. The most powerful buyers are more eager using time on a large collection in its original order than paying attention to various single items spread around in the catalogue.

Quite a number of items have, of course, to be presented separately. But you will find that our auctions tend to split up in less extend than more commonly seen.
Cheap or expensive?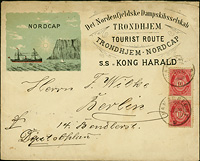 A beautiful envelope!
Franked by 2 copies of 10 øre, cancelled "Hammerfest 9. 8. 1897" and sent to Berlin.
Lot # 1342 in auction 65, Starting at NOK 500.
Realised NOK 1,300.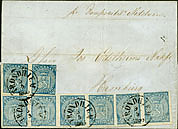 Expensive rather than aesthetic?
32 skillings rate to Germany making up by a horizontal strip of four together with 2 pairs of Norway # 1 in 1855. Lot # 1120 in auction 66. Starting at NOK 100,000. Realised NOK 275,000.
The level of prices varies from auction to auction as it varies between lots in the same auction. Fortunately this is one of the characteristics of auctions, otherwise there should be no reason to visit them year after year.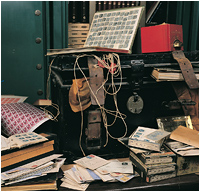 The chest of treasures! Some years ago a middle-aged man showed up in our office after the opening hours. In his car he had a huge iron made chest, properly locked by an antique looking, unlocked padlock. He told us he would like to consign the content to the upcoming auction and come back next day for a receipt.
The section featuring collections and accumulations - Norwegian as well as from countries abroad - is the most popular part of the auction. It seems that it is more attractive for many of the ordinary collectors to buy quantities instead of expensive single items. One reason could be the thrill to examine the purchase and the enjoyable work ahead in terms of bringing a different order and searching for treasures.



As we did not knew the man, we insisted to take an overlook of the content in his presence. The content was astonishing indeed: Hundreds of Norway # 1 in a stockbook, a complete sheet of the famous 50 øre "V" watermarked, several rare, classical covers etc.

The consigner had, in his time, inherited the chest from his father, given no indication of the value as neither of them were collectors.

We divided the content over 2 auctions. The final realisation exceeded NOK 3 mill.
"The genuine
stamp auctions"
In more than 30 years we have arranged international stamp auctions in Oslo. Accuracy in descriptions, reasonable starting prices and fair play for everyone have been our vital concerns.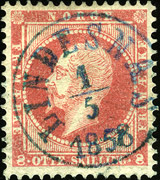 Lot 1731 in auction #74.
Starting at NOK 5,000.
Realised NOK 16,500.
Many of the most active international stamp dealers are paying attention to the "genuine stamp auctions in Oslo". Offers are plentiful, lots are to a great extent in the original order as collected, and the descriptions are not tendentious. As a result, our auctions are always privileged with impressive turnout.


What is suitable for auction consignment?



Occasionally we receive some lots unfit for our auctions. The reason could be unreasonable demands regarding descriptions or starting prices, or the total value could be insufficient to cover handling costs. In average, lots are realising some NOK 5,000. Having said this, we want to focus on a range of single items having their relevant place in the auction - not because of the value, but due to the outstanding quality.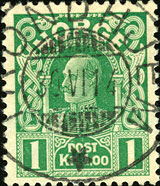 Lot 1609 in auction # 73.
Starting at NOK 100, realised NOK 950.
Not lucrative for the company in terms of money, but this beautiful stamp contributes to lift the visual quality of the auction catalogue as well as making the auction more attractive for all.
We try to avoid high starting prices.

For several years now we have seen an increase in demand for old Norwegian picture postcards. As a result, a range of new levels of prices are set. The postcard above is one of the cards in lot 1158 in auction # 75, starting at NOK 5,000. The response was astonishing, and the lot fetched NOK 54,000!
We had expected something like NOK 15-20,000. Retrospectively, we should perhaps have set the starting price to NOK 20,000. If we, however, had made it NOK 30,000, the lot would have been in risk of being unsold.

Starting prices are often subject to differences of opinion. Our experience over the years is that a low or moderate level of starting prices most often gives the best result for the vendor.
E-mail spiller en stadig viktigere rolle når det gjelder kommunikasjon.
Det vil være gjensidig interessant at din siste aktuelle mailadresse blir lagt inn i kartoteket vårt. Du vil da motta melding om en forestående auksjon og andre nyheter fra oss. Letteste måten å registrere adressen på vil være å
klikke her.
Du kan når som helst sende oss en ny mail og be om å bli strøket fra listen.